Ride to Gardens by the Bay
I wonder if it is gradually becoming a monthly affair, this cycling with other pastors? In April, we tried a new route. We met at my home in Jurong East at 8.30am and used the Ulu Pandan Park Connector to get to Ghim Moh Hawker Center, where we had a light break. Most of us had breakfast already, but we sat around with coffee and tea and chee cheong fun. Mostly talking about whats going on in life. Then we connected to the Rail Corridor starting from near the Buono Vista MRT. We cycled all the way to the old railway signal building at Tanjong Pagar, and carried our bikes across some drains, to use the road leading to the Gardens By The Bay.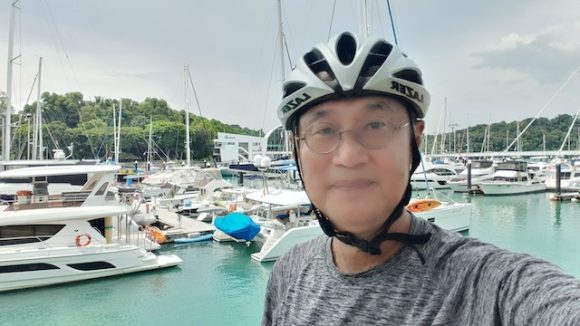 The return route was new to me. We went back to Jurong East via the West Coast, passing by Harbourfront, the Marina at Keppel Bay, Labrador Park, West Coast Park and linking back to Jurong Circular Bridge and back home through the International Business Park. We reached my home at around 3.30pm, a good day of cycling, exploring and fellowship with pastors. It was a good workout, and fun to visit new places, try a new route, and to connect with one another. Must do another cycling trip, another day.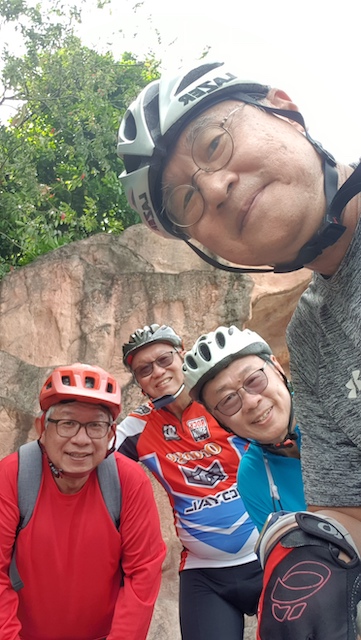 Ride to Sentosa
Pastor Richard Wong suggested Sentosa, and I never cycled there before, so why not? Others were game too. Furthermore, one of us, Rev Vincent was gifted with a new Brompton, a black beauty, by his wife, and we wanted to see him riding in it. We met early, or at least I was the earliest, at Seah Imm Hawker Center. It is always good to start with warm up with breakfast. I took a bus and was there earliest, and next was Richard. We had our roti prata before the others trickled in. We were impressed with the black beauty of Vincent's new Brompton, and he certainly looked cool in it!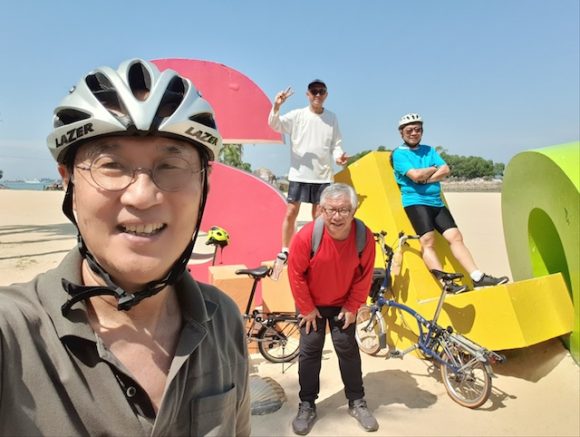 This trip proved to be eventful. Richard was our guide because he had cycled there a few times. But we were struck with disaster straightaway as Richard's bicycle chain broke at Harbourfront Centre. He told us to go ahead. Thank God he managed to find a repair shop at Telok Blangah and took a Grab taxi there (another advantage of foldable bikes). We were blessed because Pastor Eng Hwa also knew Sentosa quite well, so we went off and later linked up with Richard at Sentosa beach.
The slopes were not easy for us seniors. Vincent was enthusiastically test his Brompton up the slopes, and frankly, with this new bike, he was faster than any of us. Thankfully our bikes had good gears and that helped. However, at one sixty degree incline I could not continue and sat down to rest with Vincent. By then, Eng Hwa had already reached the top. I have learned through hiking that when you are out of breath and your heart is pounding, its best to stop to rest – which was what I did. You have to admire those who take part in the 23 day Tour de France! For me, I know my limits and live accordingly. We went down after I had sufficient rest.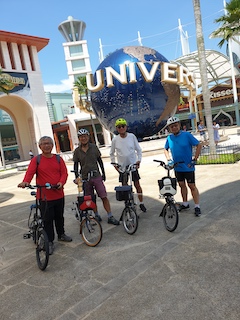 There is a direct bus for me from Jurong East Interchange to Seah Imm bus stop. Again, I delighted in riding to the interchange, folding my bike, bringing it on the bus, and comfortably arriving to my destination. It was as easy coming home. I love the idea of riding foldable bikes! I do not have to ride all the way to any particular destination. I could take a train or a bus to a location from which I can cycle the route I wanted.