My neighbour's daughter used to go there as she searched for relief from the pain in her joints. That was the first time I heard about Sembawang Hot Spring. I also read in the newspapers that they had done something to enhance the surroundings and make the natural hot spring more accessible and give the place a relaxed atmosphere. I had thought of visiting that place at least once but never did it. Until last month. Out of a whim, I asked Pastor Eng Hwa if he would like to cycle around his neighbourhood, and bring me around.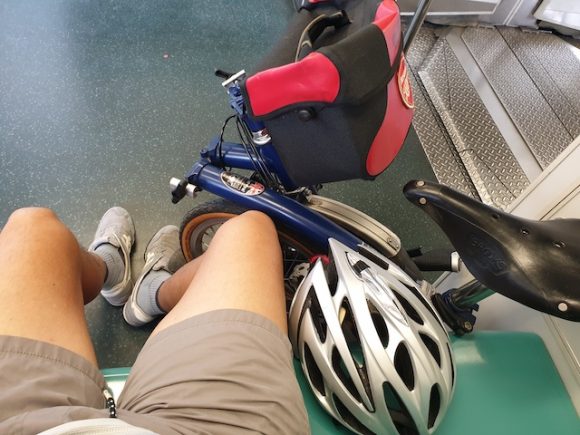 Soon I was in the MRT with my folded Brompton, traveling from Jurong East station to Sembawang station on the North-South line. I met him there and the first place we cycled to was the Sembawang Hot Spring Park.
I was impressed with what the National Parks people have done. Clean and systematic as the water moved from the hottest temperature at the chest level to the warm temperatures at lower levels where we could soak our feet comfortably. The weather was humid but the waters were inviting. I could not smell any sulphur or minerals but some people came to collect water in pails because the spring water was special in some way.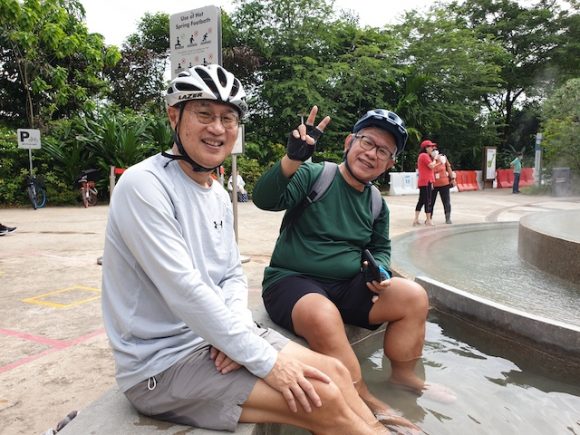 We did not stay long but dried our feet and continued our cycling to Sembawang Park. I cannot say the ride was very picturesque or interesting but we put in a good distance to our ride before we had lunch and talked about what's going on in our lives.
We skipped the ride to Ulu Sembawang as the clouds began to look dark. I was glad I went to Sembawang – this journey to the north. It fulfilled a desire to visit the Sembawang Hot Spring. Maybe the next time I will bring some eggs along to boil in those special hot water.