It was a calm, peaceful and quiet Chinese New Year (CNY) celebration 2022, not a tigerish one. Not that there was nothing to do. We had family visits and meals over four days. My wife cooked and had family over every day for four consecutive days.
The Eve
On Chinese New Year eve's evening, my son Joshua, nephew and niece, Paul and Bethany Lee, and brother in law Simeon Poh came to my home for steamboat (what else?) reunion dinner. It was pleasant but we missed the usual crowd, which normally included my son Matthew's family of Juyoung, Chloe and Claire; my daughter Elaine, and daughter in law Ping, and sister in law Baby and husband Jack. Yes, it used to require two tables, but I loved the crowd and chatter and the company of my grandchildren. This sounds rather strange for an introvert to say, but I guess as I grow older I kind of balance off with more extroversion. Then on the fifth day of CNY I met with my brothers and their wives. The week went so quickly I was curious how it sped by.
CNY 1st Day
The first day of CNY, we went to the Choa Chu Kang Cemetery to visit our departed loved ones. The Garden of Remembrance was sheltered but not the gravesite, where we ended up searching for Jenny's mum gravesite, and my departed son Caleb's gravesite – an unmarked grave. It was traumatic for me and my wife when the Lord took our twin son home six days after birth, and we sort of left the grave without any tombstone, as our burden laid elsewhere since the surviving twin-brother Joshua needed a lot of medical attention, and it also took many years for us to be healed of the grief and pain of loss. We will have to go back again another day and seek the help to locate his grave, as we simply couldn't find it with the information we got from the cemetery office.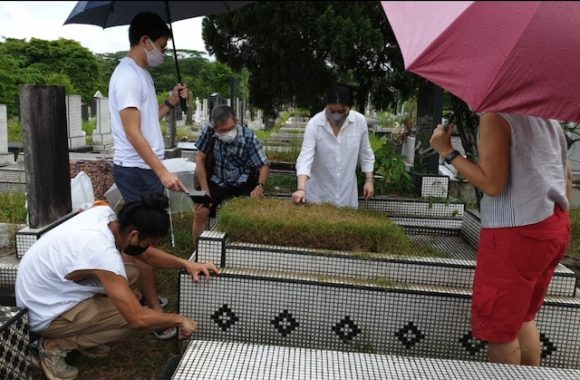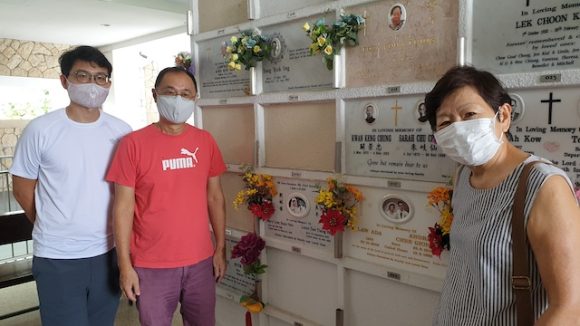 CNY 5th Day
After the dinner at my eldest brother's home, I saw some old black and white photographs of me and my younger sister, took our my mobile, and shot a few of them. Those were the days when photos were mainly black and white. I am surprised they did not fade even after sixty years in storage. The many photographs perked my curiosity as I tried to figure out who is who, and smiled at the hairstyles and dressing of those days. Looking at these old photographs are fun and makes for good conversations and learning about our family of origin and our relatives. It also made me realize that some of them are no longer with us and in a matter of two or three decades, neither would we be around. Will my children and grandchildren be swiping their iPads and looking at snazzy unfadable colour pictures of us and reminiscing about the "good old days"? I hope so! If they remembered us there is a high chance they can learn something of the wisdom of the past, even if it is what not to do.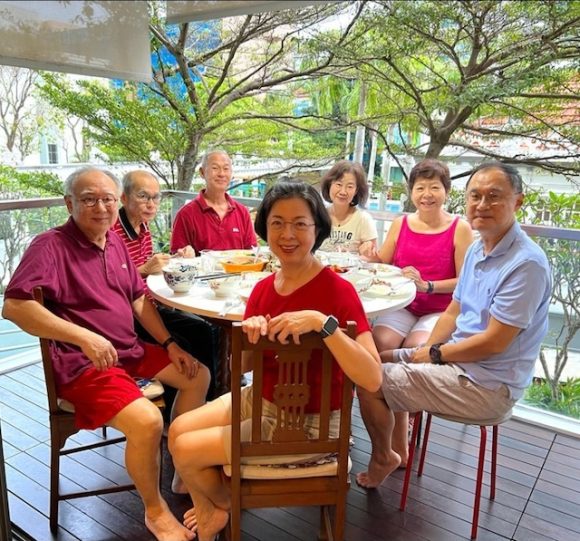 In All Things Thankful
I feel thankful for the opportunities to meet up over meals despite the restrictions to a maximum of five visitors per day and visit. If it helps to minimize the spread of Covid 19, I am most willing to do my part. Despite Singaporeans trying their level best, the number of infections tripled during the CNY period. I pray regularly for Singapore and all the countries around us, asking God to extend his mercy upon us and help us win the fight against Covid 19. I also pray often for the bold and powerful preaching of the good news about Jesus Christ and for souls to be saved and saints to be revived. The pandemic has ripened the crops and the harvest is ready for churches and Christians to reap and bring the harvest in. May the Lord enable us to do this with diligence for "he who gathers in summer is a prudent son, but he who sleeps in harvest is a son who brings shame"(Proverbs 10:5 ESV).