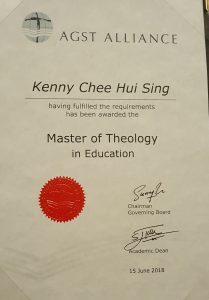 Finally I received my MTh(Ed) from AGST Alliance in a folder over registered mail. I have graduated. It was an enjoyable, enlightening and enriching journey.
It was fun to meet fellow servants of God from pastors, lay leaders to lecturers of Bible Schools who want to pursue further equipping and increase of knowledge and skills on a part-time basis, while still in their respective job responsibilities or ministries. When you are together in class, and over meals and breaks, over several courses, or even travel together, you are sure to build friendships and acquaintances.
My classmates are mostly from Malaysia and Singapore but there are also those from Australia and USA. They are from different  denominations, Bible Schools and missions. This makes our interactions and fellowship times interesting and exciting.
I learned a lot from the course modules which included spiritual formation and Christian education. Each module comprised a five day 9am to 5pm lecture phase, preceded by reading assignments, and followed by research assignments. The lecturers were helpful and facilitated our learning and treated us with graciousness and thoughtfulness. They knew the kind of struggles and challenges people in ministry faced in trying to juggle assignments and work.
The whole package created a learning environment that befits the degree we pursued. To be a good practitioner would require that I patiently and diligently seek what I learned to what I am doing. It comes from reflection-action-reflection in the journey of change. But the burden and speed of ministry means you do not have the time to reflect sufficiently to design something that is customised. It is always easier to find a package and use it. Besides having time, I only wished I was able to apply the insights gained with a coach's or mentor's help.
I must confess that towards the end I struggled a great deal with studying part-time. My grades were above average most of the time. But the tougher assignments at the tail end took a toll on me. I needed to dig deep, ask my friends for prayer support, and cry out to God for grace and wisdom and motivation to get over the line. By the grace of God, I finished the course, and graduated. It gave me a great feeling of satisfaction and accomplishment, but it makes me think twice and pray thrice about taking out any further courses.