To be able to combine two pleasures is a great blessing. I enjoy catching up with pastor friends and cycling, so to have these two pleasures combined is time well spent. I have had the pleasure of doing this recently in two cycling trips with pastors. One was from Khatib MRT to Labrador MRT following the Round the Island route. A second was from East Coast Park (car park D1) to Changi Point and back.
Khatib to Labrador (RTI)
When National Parks published the partially completed Round The Island (RTI) route, it inspired me and I asked a more experienced pastor, cyclist and YouTuber, Eng Hwa if he would like to do this route. He said yes and we agreed on the date. Later I invited one pastor Paul Loh to join us. Paul was a pastor in charge of logistics in New Creation Church before he began his own regional ministry of equipping pastors and church planting. They both lived in the north, one in Sembawang and one in Yishun. I lived in Jurong East. So I folded my Brompton bike at Jurong East MRT and took the train to Khatib MRT station. It was 23 Feb at 7am when I boarded the train. The ride all the way to Changi Point was predictable with a few familiar scenic places, where we stopped at to take pictures and rest.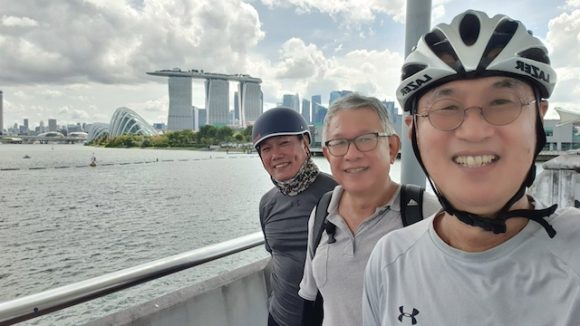 At Changi Point we ate at the hawker center and we got to know each other better, lingering over cans of 100 Plus, a necessary isotonic drink for such long-distance rides of over 70km. It helps to prevent cramps.
After lunch we continued our ride and took regular timeouts to rest, drink and chat. We were stuck for about 15 minutes at a bus-stop along the East Coast because of sudden rain. After that we kept going all the way to Marina Bay and passed the many bridges along the Singapore river.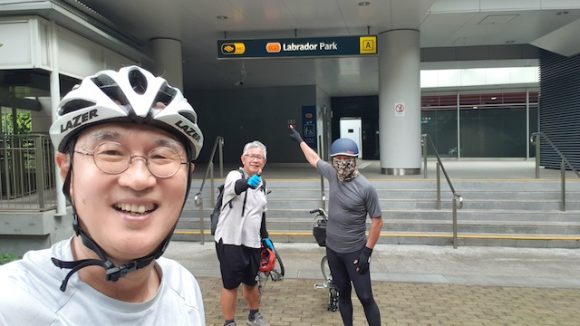 Fatigue began to set in along the Alexandra PCN. From then the going was tough but somehow by God's grace, sheer perseverance and 100Plus, we finally reached our destination with great joy and a sense of satisfaction. We reached Labrador MRT station at 5.23pm. From there we took the train home with our folded bikes. What an unforgettable trip. I now have a deeper respect for those who do the full round the island route like it was a piece of cake.
East Coast D1 to Changi Point
There were more pastors on this trip because it was organised on a Monday so a still-working Anglican pastor Vincent could join us. Another pastor Richard Wong is executive director of T-NET, a disciple-making ministry. Although he is working, he has a flexible schedule. The rest of us are retired pastors Eng Hwa and Seng Chor and myself. We enjoy doing whatever the Lord bids us to do in this new season of our lives. We have the greater flexibility.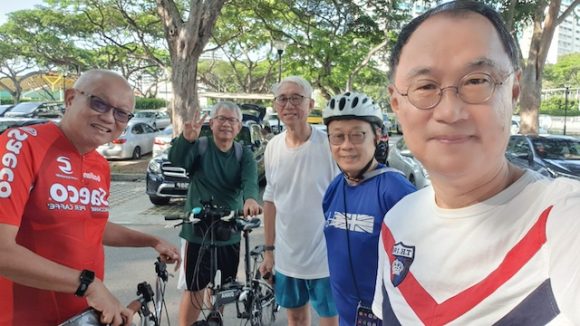 This was not our first pastors cycling trip. We met at a free car park D1 at the East Coast Park. The day was beautiful but according to the weather report, sunny at noon and rainy in the afternoon. It was one of those days when the weather forecast was highly accurate. We had fun riding all the way to Changi Point and chatting over Tiong Bahru chicken rice, and later downed with chendol dessert at another location opposite the hawker center. The talk over the table was about the church during the pandemic, catching up with each other about what's happening in our lives, and the Russian invasion of Ukraine.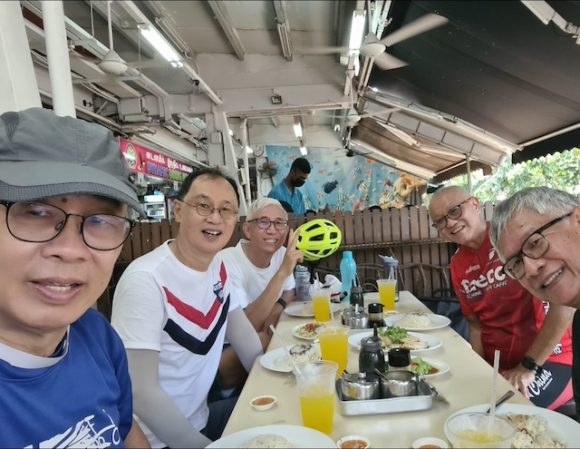 On the way back, the rain hit us in the afternoon, and we had to speed up and ended in the exact same bus stop as during the February cycling trip, all wet from the rain. After a while we decided to ride in the drizzle until we reached the hawker center near the Bedok Jetty. There we loitered for quite a while over hot teh tarik, and left under a drizzle because the rain refused to stop.
I gave a ride to pastor Vincent who lived fifteen minutes from my home. Thankfully we could put two foldable bikes in the car. Although we were drenched, it was an eventful outing, and I enjoyed the ride of 40km, and the camaraderie. This is one kind of environment that helps men to build relationships: doing things we enjoy together and tossing in some meaningful conversations. We are planning another cycling trip, this time from Jurong East to Marina Bay and back.