Wednesday 2 November 2016
I was excited to visit Shirakawago, a UNESCO World Heritage Site. I think UN did a fine thing to make this label such a desirable thing among the nations. It's a win-win arrangement. The country that gets a heritage site status for one of its historical or natural wonders benefits from a "brand" that can draw tourists' dollars that then can be pumped back to sustain the maintenance of these invaluable pieces of history and natural wonders.
From Toyama we took a bus to Shirakawago. This was an hour and a half ride. I took the time to catch up on my reading. I had bought a Kindle beforehand and liked the idea that I can have so many books in one light paperback-sized gadget with a pleasant screen. I was reading "Tokyo Year Zero" by David Peace. I got the idea of reading a book about the country I went to when my son's girlfriend passed me a book titled "Silence" the year before when I visited Kyushu. I must say that both these books have bleak, desolate themes. Perhaps this dismal, cheerless spirit is why the Japanese love wearing neutral colours. In the trains and in the street, I see the Japanese people wearing clothes in browns, beige, black, white, cream. Maybe its practical because it matches with anything – and being classic it does not go out of fashion so quickly. Maybe they are a high-conformist society. When I watch the Korean dramas they are so into bright catchy colours! Anyway, the Kindle was a blessing to have around during these long rides.
At Shirakawago we went the wrong direction and got lost.  So we went back to the start point and information counter, and in less than ten minutes in the opposite direction, we entered an old three storey house that had a roof that looked like praying hands. The roofs were steep and thatched in the "gassho style" (whatever that means). We entered into one that is open to the public and found the inside surprisingly large and interesting. These rare, large and well preserved old village houses used to house extended families that subsisted on sericulture (cultivation of mulberry trees and silkworms). Fascinating.
I wanted to stay longer because it was highly unlikely that I would pass this way again and I was intrigued by the village in the valley secluded from the rest of Japan by the surrounding forests and mountains. What kind of people lived here? How were they different in culture and values from the rest of the Japanese? Never got my questions answered though. So while the rest of the group headed back to Toyama city viewing tower, four of us opted to stay on and we booked a later bus departure. This gave us more time to have a quick bite and leisurely walk around the whole village. The bright sunshine did not make for good photography but the weather was cool and lovely. I loved the unhurried leisurely stroll in this beautiful and significant place.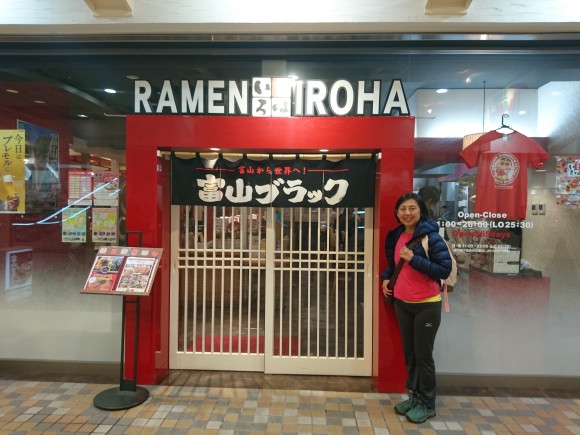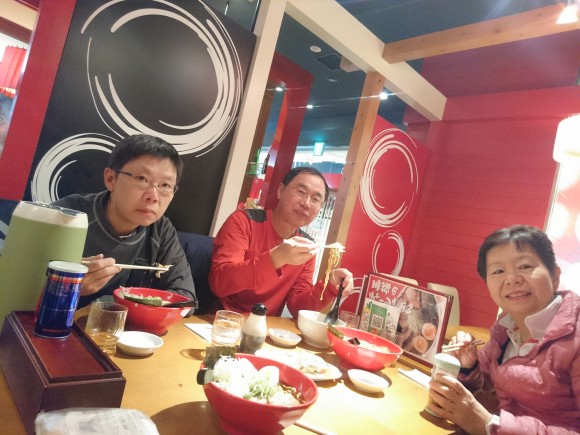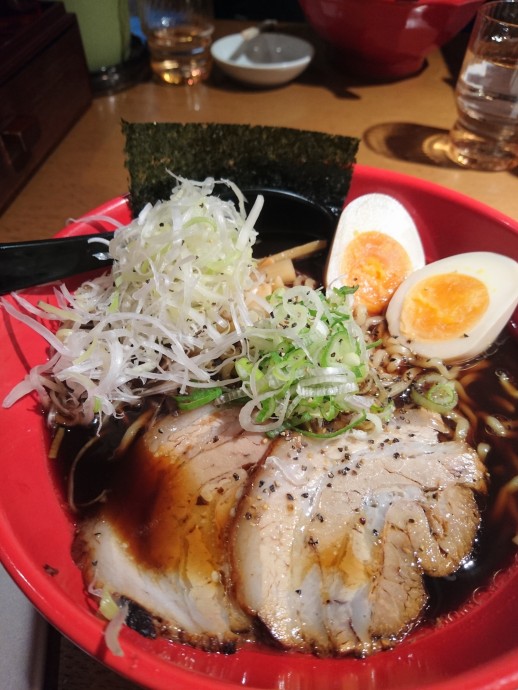 Later we took the bus back to Toyama and there searched for the famous black squid ramen. It is raved about on the internet. So we had to die, die must try, and tried we did. We found it in the basement of the building where the bus dropped us off. It was opposite a Daiso department store, so shopping took priority and the ladies went hunting with new energy, while I explored every floor of the building and ended at the highest level where there was free wifi. The other group had patronised the ramen restaurant earlier and said it was great, so with anticipation we went in and slurped the ramen noodles for dinner, and though I am not much of a ramen fan, I exclaimed oishi! since everyone else did so. In Japan, it is good to conform.