Kenny Gan: set apart for the nations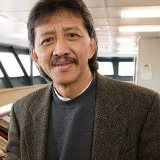 I saw his obituary twice over the weekend. I have met and chatted with Kenny Gan a few times but a few of my colleagues in church knew him personally. They served with him in Operation Mobilisation (OM). Kenny is a trophy of God's amazing grace. He was born into a Buddhist/Taoist family. His dad was abusive and a womanizer and gangster while his mom, an incorrigible gambler. He started smoking at 5 and took to drugs at 13.  A regular in and out of prison, he saw many counsellors who gave up on him. It was at a halfway house that he encountered Jesus and God's grace transformed his life completely.  Later he joined Operation Mobilization, serving 17 years on board the ship gospel ministry. The ship ministry of OM trained missionaries and wherever it stopped at ports, they held book exhibitions, preached the Gospel and encouraged the churches. However he fell ill with nose cancer and after many years of battling cancer he won the fight of faith, and went home to be with the Lord over this weekend. His was a life given completely to missions, one that had impacted the nations. May this seed sown in the bed of missions multiply a million. May the Lord comfort and strengthen his wife and daughter in their loss.
To hear his powerful testimony view this YouTube video:
You can follow any responses to this entry through the RSS 2.0 feed. You can leave a response, or trackback from your own site.