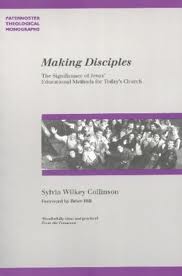 My main textbook was Making Disciples by Sylvia Wilkey Collinson. This is indeed a book that cries out for more readership. Well researched, readable and clear the author Sylvia Wiley Collinson has  made a significant contribution to the slowly growing literature on making disciples. Not many scholars will consider this subject weighty enough to warrant their attention, and this is sad.
The popular fare on this topic have been written by Navigators-influenced authors like LeRoy Eims, Dawson Trotman(founder), Jerry Bridges, Walt Henrichsen, Bill Hull, and  Edmund Chan. The latter two authors have written quite a bit about disciple making in a church setting but the rest write of discipling in a context that is very much independent of the church. Doing discipling one with one or with a few.
This is why I feel Collinson's book has a place in the pantheon of classic books on discipling. The book looks at discipling in the Greece, Rome, Egypt and other cultures surrounding Israel. Then she examines discipling in the Old Testament and in each of the Gospels, Acts, and the epistles. She refines her definition as she goes along. Attention is given to the differences and changes in discipling between the gospels and after the church was formed. Then she views all her findings in the light of surveys of Australian church life and compares what she learned of discipling methodologies with recent educational research. The conclusions are not earthshaking, but give you a sense that there is much to be done in reforming educational methods of discipling in the church.It is much more than just one with one; it has to do with the whole community, with culture and values education as well.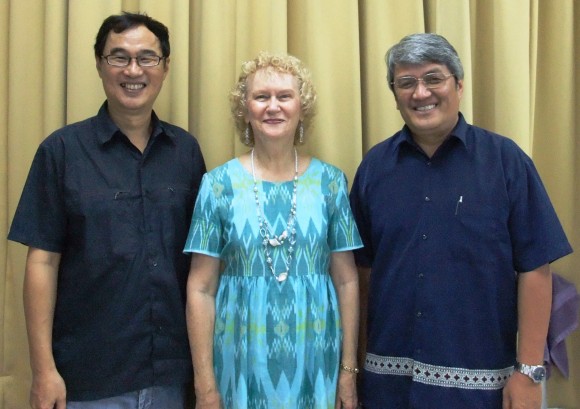 It was a pleasure to be able to discuss the content with the author as well. In lectures and in interaction inside and outside the classroom, the subject can be absorbing and exciting. Dr Collinson was able to give perspectives that come from years of research in related fields, suggesting further resources and readings in various journals and books.
The book is printed under Paternoster theological monographs and due to the niche demand, is rather expensive at $40 over. However it is worth the price and the time and effort to study and discuss it. Especially,  for those passionate about disciplemaking in the church. How I wish S.U., the Navpress, or Campus Crusade could imprint a cheaper version and make it available to a larger audience at  a lower price.