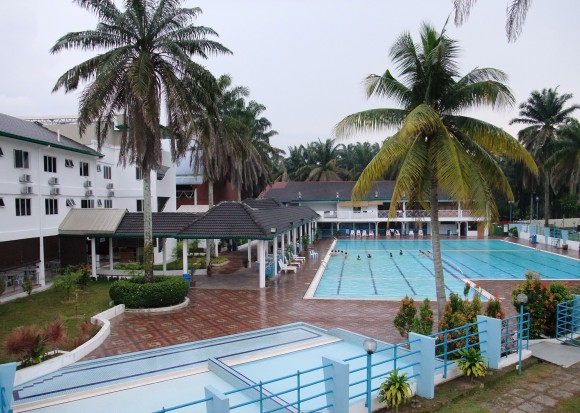 Studying is a spiritual discipline – one that helps you to grow spiritually in grace. Yet it was with some apprehension that I entered into a formal program of study. After all it had been over twenty years since I wrote essays with endnotes and bibliographies. And the sight of students studying in the Trinity Theological College's library always evoked feelings of pity in me for them. The Asia Graduate School of Theology Master's in Theology (Education) is the only post-graduate course that appealed to me and stoked my long dormant affair with education. Only that my interest had shifted long ago from school to education in the faith community. So the challenge felt like climbing Mt Kinabalu: it's doable, but you may not make it, and it called for preparation, sweat, money, and perseverence.
Kuang, the town where the Malaysian Bible Seminary(MBS) campus was located is 45 minutes north of Kuala Lumpur Sentral by KTM. MBS had bought over and renovated what was formerly a leisure farm/golf country club. This would lend the MBS the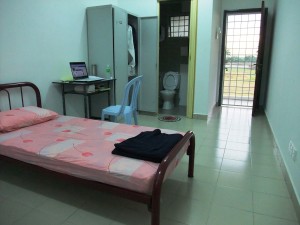 distinction of being the only bible school in all of South East Asia with a swimming pool! The hostel room I stayed in was once a golf driving range and its door open to an open field. There was even a very large indoor stadium for basketball and badminton. The grounds were large and breezy: I liked it immediately on arrival. Though the furnishings were spartan, they were clean and there was an attached bathroom and airconditioning. The AGST program would move among its several  affiliated member theological institutions in Malaysia, Singapore, Myanmar, Cambodia and Thailand.
While we were there, the Petaling Jaya Evangelical Free Church was also using the grounds for a two week intensive vacation bible school for school leavers. There were about 30 of them studying the Word in depth in the mornings; workshops in the afternoon and ministry at night. At the end of the school they would take all the services in the church over the weekend, except preaching. Another group that used the place was SIB KL's worship ministry having a 2 days retreat.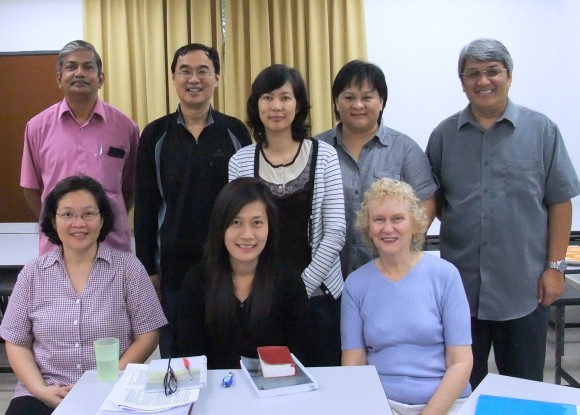 The lecturer was Dr Sylvia Collinson and she had written her thesis on Making Disciples which was then the basis of her published book, "Making Disciples: The significance of Jesus's educational methods for today's church". Having read her book as part of the preparation I was keen to interact with her and the other students. The students were of different nationalities and ethnicity: Thai, Filipino, Indonesian, Malaysian and Singaporean. They are theological lecturers, pastors and leaders of parachurch groups. We were all at different stages of the course, some near the end, others at the middle, and me and Carlos just at the beginning.
The readings before the course were beneficial and since reading and writing are pleasurable activities for me, doing the reading report and the class presentation were as easy as climbing Bukit Timah Hill. Its the formal essay requiring research, footnotes and bibliography that presents a psychological barrier. To help me overcome that, Benedict installed in my laptop a software called "Endnote".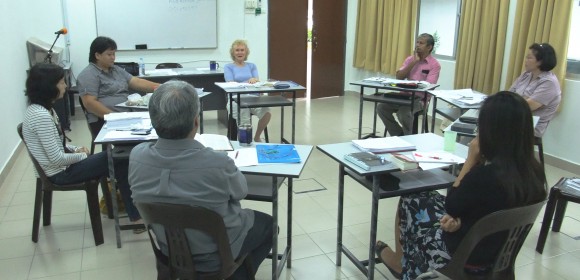 We began at 9am each morning and typically ended around 4.30 to 5pm, including Saturday. The course was marked with a good balance of lecture, small group discussions, class presentations. Everyone contributed to the learning but the lecturer was the main contributor and facilitator as well. I look forward to the next course in April on Spiritual Formation. But first I need to complete an essay for this course by the end of February.
Meal times were leisurely and the food was good local fare. Breakfast was mostly Malaysian, and only on one occasion we went Western with bread, bacon, eggs, sausages and baked beans. The banter were usually stories, discussions over lectures and getting to know you stuff. All were mature people with a sense of purpose. It was enjoyable.