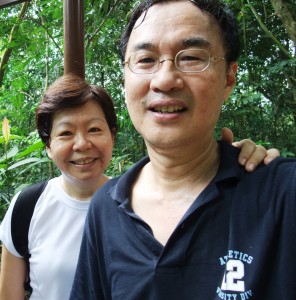 Listening to my body
Almost two months have passed. Physically, I have rested well. This April and May has been months when I listened closely to my body. Whenever I felt tired, I laid in bed and napped or slept. Most mornings I do not force myself to wake up. So it has been usually 8.30am or 9am when I have my breakfast. They say this is the best way to know how much sleep you need. My tentative conclusion is that I need about 8-9 hours of sleep each day.
Though I began with walking and jogging at the Chinese Garden, my preferred form of exercise and recreation is still trekking. So I have revived my Saturday trek with friends, and above that, during the weekdays I try to trek once or twice at Bukit Timah Hill or MacRitchie.  Such treks are gentle on the knees and on the heart. The air is great and the forest sounds and sights perk me up. Over the several weeks, I have been gradually trimming down and firming up.
Outside enrichment
The AGST MTh(Ed) modules were fun and the subjects and readings, lectures and interactions have been fruitful learning experiences for me. Forcing myself to research, reflect and write my papers have also been pleasantly smooth riding, despite my early anxiety.
Helping out as a facilitator once a month with the Focused Leaders Network (Church Resource Ministry Singapore) together with James Creasman, Bishop Moses Tay, and Rev. Walter Lim has been enjoyable. This is a platform for me to journey with pastors, in this instance, pastors from the Foursquare denomination in Singapore.
Spiritual refreshment
More time also meant more time for meditation, reading, reflection, prayer and journaling, and listening to sermons with my wife, mostly Paul White and Andrew Wommack. This last month I have been slowly nourishing my soul on Psalms 42 and taking time to pour out my heart or be quiet before Him.
Visiting churches as a layman is so nice, so nice. To be free from having to preach or minister and to fuss over program or people problems is like one prolonged sigh of relief. It was plain good, a cosy and relaxing change. It was pure indulgence: like peering into the horizon with sunglasses, and sipping watermelon juice at a beach, as white clouds quietly tiptoed by. And then being able to indulge my spiritual palate in different church services and sermons, like a wandering charismatic, has become a prolonged epicurean feast I hope I do not become addicted to.
Anxiety squashed by word
Even as the days passed, colourful as they were, with a Kuala Lumpur jaunt and a chest thumping week of witnessing the Singapore election, anxiety about whether the days were productively spent bugged me for a while. For a Singaporean, even resting and restoration is an objective to strain for. So as the days passed quickly you wondered if God will get everything done that I wanted Him to get done in me. Mercifully, some peace prevailed after the Lord gave me a status update, "Enjoy each day as a gift and trust Me to accomplish in you all that needs to be accomplished by the end of the sabbatical". That is so assuring and going forward, I will rest on that word.
Google reader
Recently, I have also learned how to use the Google Reader. Transferred all the blogs and websites I usually read from my blogroll and Favourites and moved them all there for efficient access and pleasure. This has been available for some time, but I am usually a late adopter when it comes to such things. I am still not on Twitter.