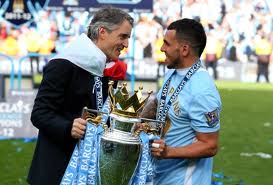 Looks like my predictions at last has two on target and two misses. Man City and Man Utd were rightly placed first and second in my prediction. I expected Chelsea with Torres in form to be in the third place but it was not so. I expected Arsenal in fourth but they surprisingly came in third. Tottenham did better then expected, and Newcastle and Wigan and Swansea were the surprise packages.
This was truly the most exciting EPL season in decades. It was so surprising and unbelievable it almost seemed staged by Asian bookies or Middle Eastern oil money. The Queen Park Rangers taking the lead is fairy tale. Even more incredible the two goals in injury time! What if Barton had not been sent off? The drama on the faces of Man City and Utd fans over the game beamed live simultaneously are all good TV suspense and emo swings. Even the Arsenal's 3rd place seemed oddly suspicious with the last moment replacement of experienced goalkeeper Ben Foster with his number 2. No wonder all the money and eyeballs are on EPL: it is still the most engrossing, watchable football circus in the world.
Good to know that Mr Air Asia managed to keep Queen's Park Rangers up for another season.