Whenever I have no idea of what is good to eat at any hawker center, I follow the Singaporean rule of thumb: look for the queues. Where there is a queue, the food is probably good. It has to be good if people are willing to wait patiently for it. Though it is possible the cook is slow or the system of delivery is bad, the likelihood is that the food is tasty.
So when New Creation Church became the only church where you had to queue to get a seat, the surmise is that the "food" is good. Of course we can be skeptical or cynical and say: its bad organizing or its a image projection or whatever. However, at the crux of it, you'll have to admit: the queuing thing which went on for close to a decade without waning says something. The "food" has lots of satisfied customers. People, including pastors, may say otherwise. However the thousands of satisfied customers rub their stomachs and say, Jia pa pa (Eat full full).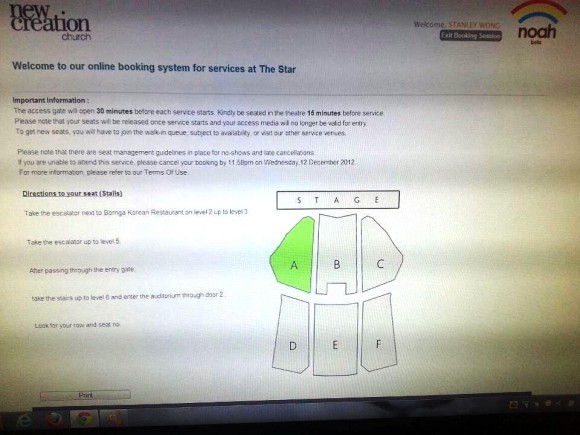 Now it seems the thousands of New Creation attenders have good news: they don't have to queue anymore. They can book their seats online using their ez-link card number. Now this is a wonderful creative solution, one that meets a real need (even though people are actually willing to queue and wait). The pic above is what a booking slip looks like. So this is the true gospel for NCC members: no more queuing. I am happy for them. However if they are late, their passes will expire and the empty seats will be released for others and this is fair and encourages punctuality and responsibility. Technology and moving to the new facility at Star Vista has made this possible. Their first service will be on the 23rd of December 2012.
Instead of queuing just click.