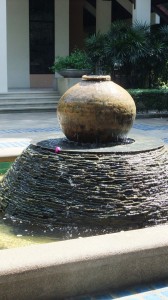 Christmas is the season for reflection. It is December. Its the year's end. Often it is seen as a time to holiday and wind down. Nothing wrong with that. It is time also to look back on the year. God has been with you every day of the whole year. We forget his inconspicuous presence in everyday happenings of regular living. Reflection helps us to unearth those gems and deepen our love and gratitude for our Lord. So we look back and count as many blessings and write a super long list of how God has shown up and blessed us through events, experiences and people. Then as holy priests we offer to the Lord a sacrifice of thanksgiving and praise.
Of course there were also those so-called negative experiences. Times when we were upset, angry, jealous, bitter, furious, and fell into temptations of various kinds. We felt humiliated, discouraged or remorseful. We wanted to give up. Run away. Hide in a hole forever. These feeling need to be processed in the context of the incidents in which they arose. Talk to the Lord about them one by one and sit and listen. Let the finished work sink in. There are gems of self- and God- discovery to be unearthed. Each year should enrich you with bags of  experiences processed via the cross of Christ.
So carve out some time and take time to reflect.  Take a break and shut down all electronic and digital devices for a day or a half-day. Eat, sleep, pray, journal and let God love you.
My warmest Christmas wishes to all friends and visitors of this blog. The Lord bless you with hope and peace!