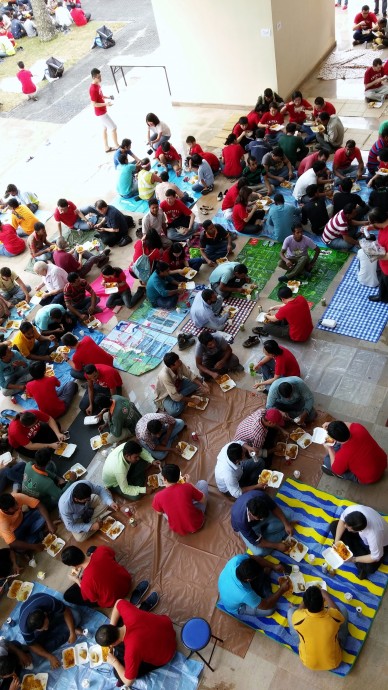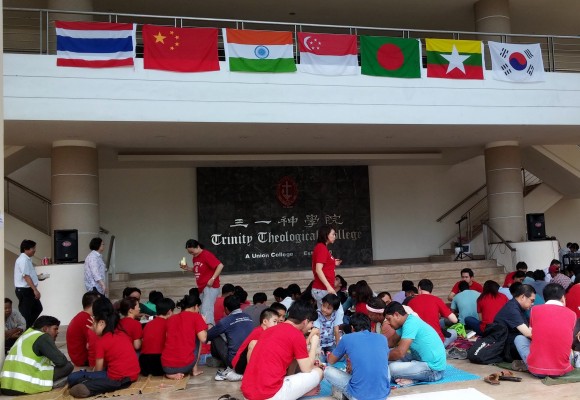 I was in the Trinity Theological College (TTC) library, when I heard the loudhailer blaring something outside. It must be some kind of celebration or a college event, I thought. Some time later, on my way to a lunch appointment, I caught sight of what was happening. It was a glorious sight. I could not believe my eyes. I had to take pictures to document this for my good friends and classmates Rev Benedict Muthusamy of Open Doors, Malaysia; Dr Tan Yak Hwee lecturing in Westminster College, Cambridge; and Raphael Samuel the Anglican Bishop of Bolivia. They would be delighted. I saw a sea of red: with students and faculty members and construction workers. Most were seated on the floor, some were standing, and others were busy helping around. They were having lunch, the seminary folks and the construction workers who had been working for the past few years to build the MRT station a stone's throw from the college entrance: the Hillview MRT station.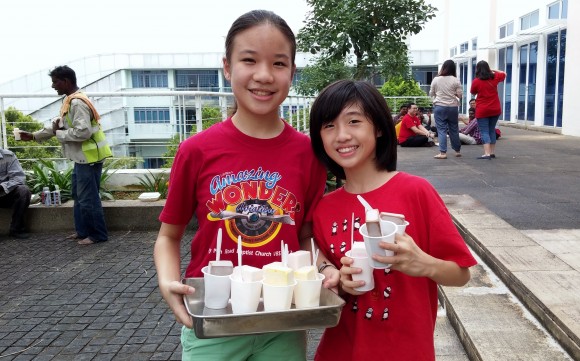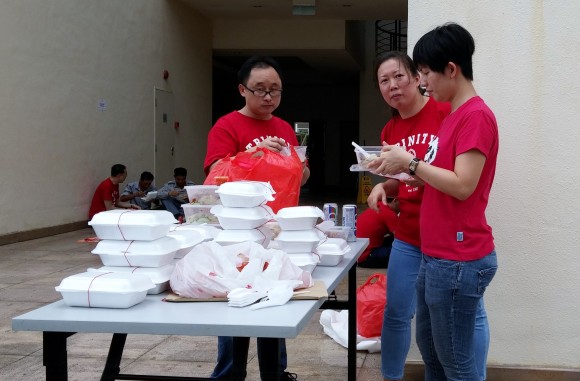 I asked Veronica from TTC office, What is happening? Oh, the college decided to serve lunch to the "unsung heroes": foreign workers from Lanka, India, Myanmar, Thailand, China, Korea that had been working on MRT station works just outside the college. I was pleasantly surprised at TTC's gracious act of hospitality, even if it was a symbolic once off event. You know, after all seminary do not do such things.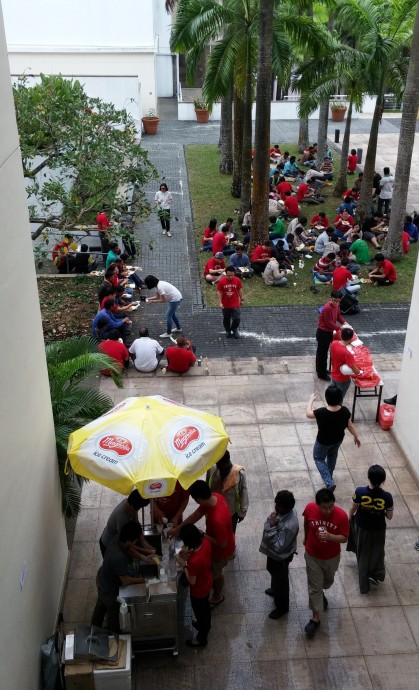 The foreign workers would have seen the big seminary sign at the main road, and may have known that this is the place where Christian workers and pastors were trained. For them to receive hospitality and thanks in this fashion is something they will remember for a long while. Just as significant the seminarians have begun to learn by actual doing the sacred art of showing hospitality to the "stranger" or "alien". This is a true curriculum which educates the heart, a curriculum as important, if not more important, than learning in comfortable lecture rooms and library. This is theology of the heart. Theology 101, Jesus way.