This prayer retreat was a welcome break for those weary with working from home, and with the rapid changes of Covid 19 restrictions. It was also for lovers of God and nature, for those who wish to find God revealed in nature, and God communicating with us afresh as we immerse ourselves in the sights, sounds and movements of the forests and parks around Montfort Retreat Centre in Upper Bukit Timah Road.
This semi-silent retreat was held from Saturday 6 to Wednesday 10 November 2021. After the participants had trickled in from 10am onwards the retreat commenced with a briefing at 2pm followed by an orientation walk to the Chestnut Observation Tower. Nightly zoom meetings for small group sharing and instructional sessions for the whole group of about 18 were structured into the retreat program. I was there with Matthew and Jessica, and Juliana to provide volunteer support for the retreat that was led by spiritual director, Lance Ng. We were guides for individuals who needed someone to accompany them along the nature trails nearby.
the retreat program
I was there to guide retreatants on Sunday and Monday. From Tuesday onwards they were on their own. I enjoyed the initial mutual introductions. This helped the guide and retreatant be at ease with each other's presence. After that, the retreatant was left alone on their silent contemplative walks, and I kept some distance away so they can have their alone time, privacy and freedom. I enjoyed the walks too as I had been inactive for about three weeks after my booster jab. I welcomed this burst of concentrated daily walks which started at 7am in the morning and usually ended around 10am plus. 
I love walking in the forest but found guiding different because there is always that concern of keeping the retreatant within my sight but yet hopefully without me intruding. I want them to feel safe and yet be fully present to enjoy God's creation and presence.
After their morning walks, the retreatants had time to reflect, rest, nap and journal their experiences. At 7.30pm each evening, they shared over zoom what had impressed or moved them during their walks, first in small groups, and then together as a whole. Lance Ng also gave conversational talks on very helpful topics like self-knowledge and truth; having conversations with God about areas in our lives that needs attention and formation; and how community is so vital to our journey to being fully human.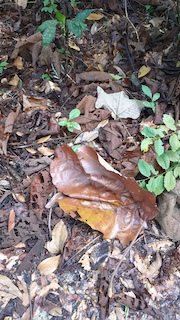 From listening in to the retreatant's lively and interesting vignettes about how God was dealing with and communicating with them, I could see that when we re-visit nature we find God happy to use what we see, feel, smell and touch to communicate with us. After all, at the beginning, it was in a nature setting that "the man and his wife heard the sound of the Lord God as he was walking in the garden in the cool of the day…..the Lord called to the man, "Where are you?"(Genesis 3:8,9 NIV). We find God in the garden, and he finds us there too…more aware of our struggles; sometimes hiding because of them, and yet open to listen, open to God's movement towards us despite all our faults.
the Lord's leading
The team had actually gone on a dry run through the retreat program a few months back but the latest Covid 19 restrictions required that we modify the program drastically. However, our creative God is not handcuffed by human rules and is able to transcend them and reach us on the inside in our solitude and silence. We were amazed at God's unfolding grace and leadership of the retreat. We know the retreatants had experiences of and dialogues with God and moved closer to him. They also left the retreat having learned a way to be with and listen to God which they could use in any of the many parks in Singapore. This is a bonus.
first quarter 2022, God willing
I could detect an appetite for more of such kind of retreats. For now though, the retreats being rolled out for the first quarter of next year (2022) are as follows: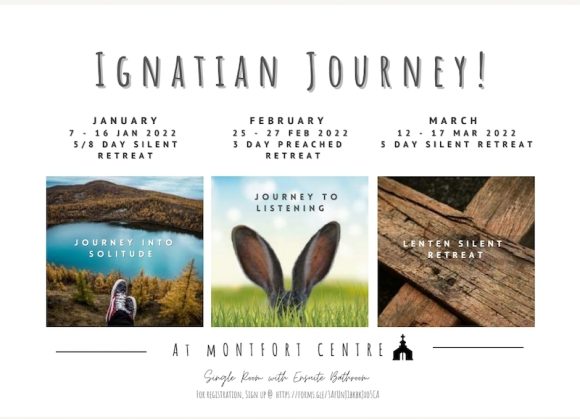 registration for first quarter 2022
For registration, Sign up HERE.