Author Thomas Green called a prayer retreat a vacation with the Lord. My experience of retreat did not bear that out. Certainly not during those years when I was pastoring. Those retreats were not vacations, but more like intense wrestling with God and myself. Now that I have retired from the pastorate (but not from ministry), I am finding more sweetness and rest in my retreats. Most notably, in this recent eight days of silence (part of a spiritual direction formation program), I found myself seeking the grace of God's loving embrace. I wanted to taste more of his love for me. Every day I desired this and prayed the Lord will draw near and reveal his love to me. He answered my prayers.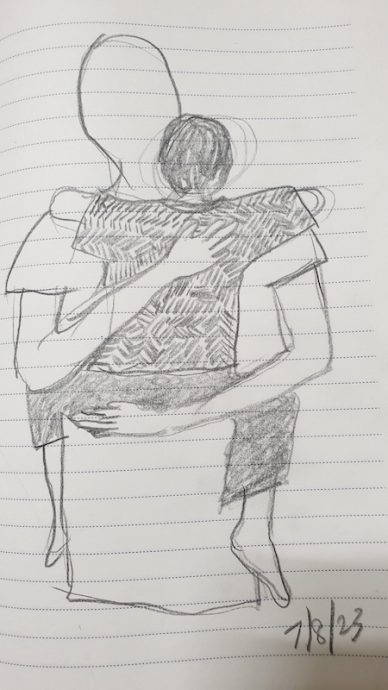 Core Identity
As a result of this retreat, I found myself deepened in my core identity. I am his child and he is my Papa. My father did not show much affection, did not talk much, and was a typical Asian father who kept his children socially distant. It is no wonder that in my relationship with God, I found myself more able to relate to Jesus and my helpful friend, the Holy Spirit. Calling God Father in my prayer felt foreign or distant. In this retreat, I found myself imaging myself as a little child clinging, hugging and resting on Papa's shoulders and neck, committing all my cares and concerns to him in child-like faith. In my journal, I wrote letters to Papa to express my feelings and thanks and prayers to him. I am his beloved. I will enjoy being with him and depend more on him.
I also had a wonderful identification with God as Creator and Master Craftsman. My spiritual director gave me Psalm 139 as one of the passages to meditate upon. I had this same passage and meditated on it for five days during a Chau Son Retreat in Dalat, Vietnam. I thought there would be no more juice to squeeze from this passage but I was wrong. One evening during an hour of adoration, the leader read Psalm 139 and the verses about how God created and crafted us with tender love and detailed care stood out strongly for me. "For you formed my inward parts; you knitted me together in my mother's womb. I praise you for I am fearfully and wonderfully made….my frame was not hidden from you, when I was being made in secret, intricately woven in the depths of the earth. Your eyes saw my unformed substance…." (Ps 139: 13-16).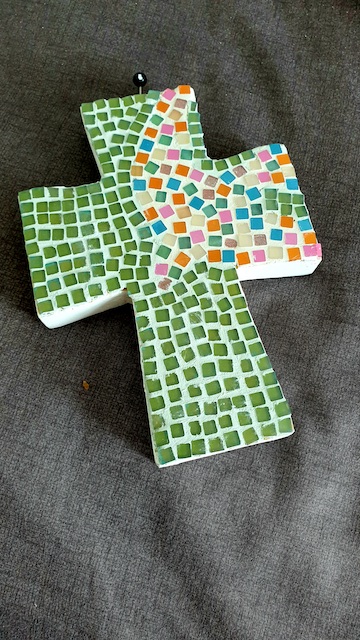 At that time, I was spending time in the "CREATE" room where many art materials were made available for retreatants to use in prayer. I took a wooden cross and made a glass mosaic piece. I took time to draft designs on paper, try out different glass pieces and colours, worked at pasting the glass pieces carefully, and filling the grouts with cement. My thoughts were on this artwork even outside of the Create room. I fussed over every imperfection, and tried to rectify gaps in the grouting. I was engrossed while I made the cross and was very pleased when it was done (see above). Then suddenly it dawned on me that this was how my Creator and Father was feeling when he made me in my mother's womb – with great love, creativity in design, care and passion, attention to details, and how proud he must have felt when I was born because I was his masterpiece. I caught a glimpse of our heavenly Father's passionate love and satisfaction with me, and this moved me. I will celebrate and accept who I am despite my flaws and lack, rejoice in my unique strengths and not envy others of their different gifts and ministry.
Not only was I his beloved child to give him joy, and his beloved masterpiece to display his glory, I had a deepened sense of being his beloved servant. Isaiah 41:8-14, 43:1-5 and 2 Corinthians 4 were other passages given to me for prayer. I prayed with these passages and they reaffirmed for me that though retired from pastoring the church, I am still God's servant, called, chosen and authorized to represent him in the world and to do his will. A fresh faith sprung up in me of the authority and ministry that God has entrusted to me. I will be bold and confident as his servant and depend on him to back me up with resources.
It was a lovely retreat and the Lord was kind and gracious in blessing me with these gifts of assurance and revelatory knowledge. I knew these truths in my head and they never affected me. Now they have deeper roots in my experience of his love.
A team from Life Direction Singapore did a great job of organising and leading this retreat. This eight-days silent retreat is the last major formation element of the one year and nine months "Spiritual Direction Formation Program" (5thbatch), which was lovingly and with much dedication organized and led by them. It is, in my opinion, the best formation program for spiritual direction that you can find in Singapore. I have been greatly blessed, equipped and formed under these formators.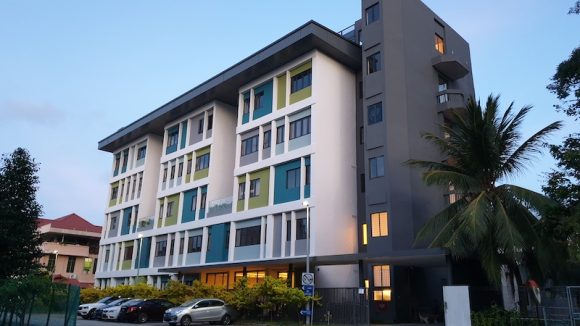 Where was the retreat held? At the La Salle House(see above), on the grounds of St Patrick's School which is straddled between East Coast Road and Marine Parade Road, and opposite CHIJ Katong Convent. It is a new building and they are very quickly tackling teething problems. The bedrooms had attached bathrooms and were comfortable, and there were prayer rooms, spiritual direction rooms, meeting rooms of different sizes and a huge dining area. The food that was catered was excellent (see below). I was impressed.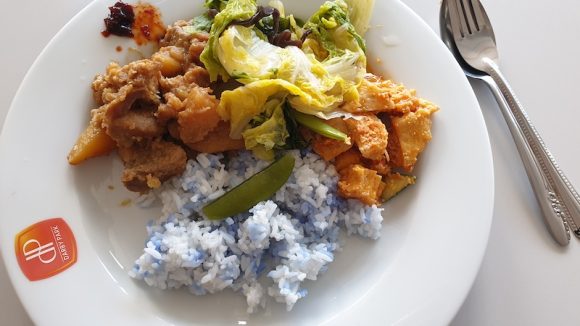 However as there were more retreatants than rooms, the men were sent to stay in the old retreat rooms of the Brothers' Residence next door. I got used to the 1970's décor(see below), eclectic furnishings and dark room. Soon the room became my regular place of prayer for the entire retreat. I decided to have three periods of prayer each day, and one of them was spent on some bench in the open air at the East Coast Beach, to which I cycled in about twenty minutes.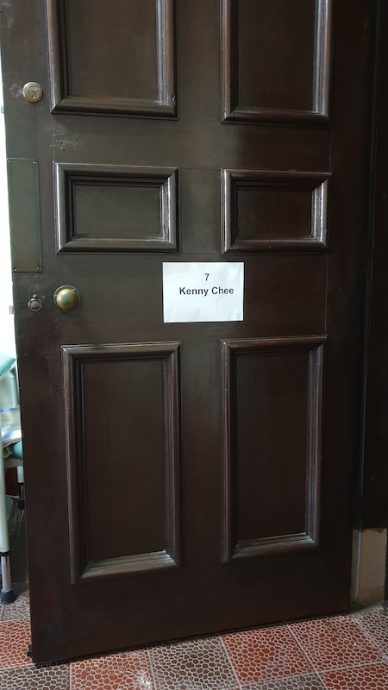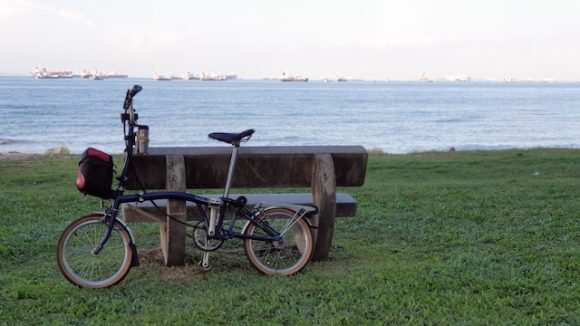 If you want to have a directed retreat as an individual or a group you can get more information HERE. However if you wish to attend a retreat outside of Singapore there is one coming up in Cebu Island, Philippines, during Advent. You may want to consider this retreat (see below) with a link if you wish to register.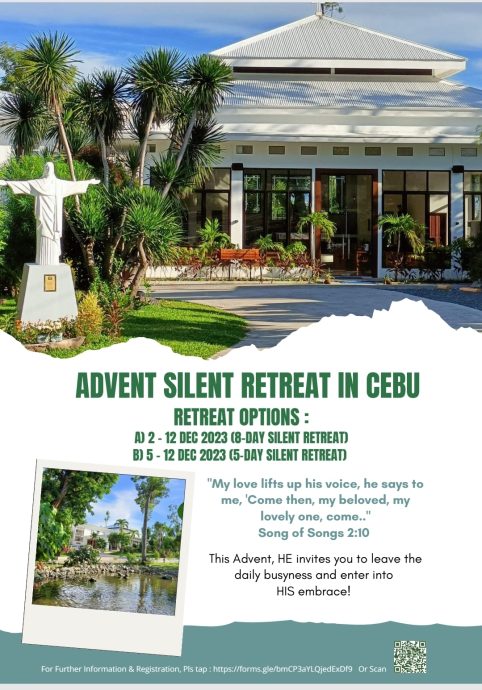 Register HERE.