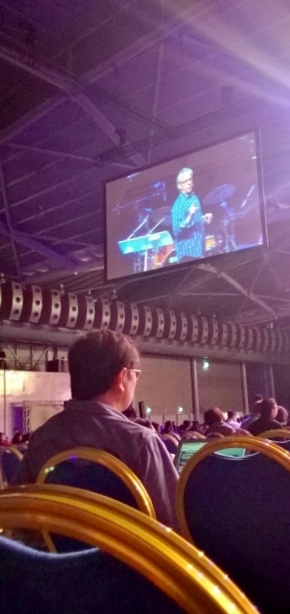 I attended Kingdom Invasion from 19-21 March at the Singapore Expo, but mainly the morning and the afternoon sessions. The keynote speaker was Bill Johnson and we missed him the last time round but it was good to have him take more sessions this time. He was full of interesting insights into God's ways and some of his one-liners stay with you like henna dye. Two of his powerful messages were the ones on culture of honor and the one of the role our desires and faith play in God's sovereign plan. The basic thesis of the first is that the church needs to recover the key of honor in different aspects of relationships so that what God has gifted and graced the person who we honor may be released to us. Jesus was not honored in Nazareth and thus they were deprived of what He could have done for them. The central truth of the second is that our desires and faith have a way of bringing forward what God may have planned for the future. Jesus said to Mary his mother, My hour has not come (to perform miracles). However due to her persistent faith, that hour seemed to have been brought forward in the miracle of changing water to wine. Thus imagine if the church had the desire and faith to bring forward the promises of the future kingdom to the here and now – bringing the promises of heaven to earth – what kind of glory would the church display to the waiting world. What an inspiring, expansive vision.
James Goll was another proposition altogether. More prophetic and inspirational he spoke, sang and shared some of his encounters with angels and dreams and taught people how to intercede as a privilege, out of the intimacy that the Father offers us.
And as ever the inimitable Heidi Baker facilitate a soaking in the presence of God. We think we need more cognitive content but God knows we ministers need more time allowing the Spirit to fill us and to be inspired by her abandon to the Spirit.