In celebration of Ministers Fellowship International Singapore (MFIS) Thanksgiving Dinner, on Thursday night, 23 November 23, we were blessed with a sumptuous dinner complete with roast turkeys from Goodwood Park Hotel (courtesy of Mr & Mrs Luar Eng Hwa). We had about 120 pastors and leaders from some 45 churches coming together at Harvester Community Church in Geylang. The program started at 5pm and ended at 8pm. No one was bored, everything flowed according to schedule. We had a great couple Tom and Ethel Cannon as our emcees.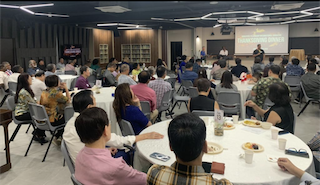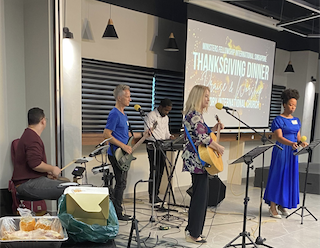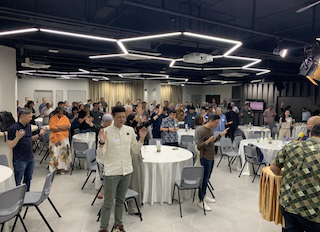 We were particularly blessed by the opening speech by Apostle Patrick Low (Founder & Apostolic Overseer of Christian Community Chapel). He started by asking all of us this question, "What are we thankful for?" We are to give thanks for all the blessings we have received in 2023, but we also need to give thanks for our trials and sufferings. Suffering, is a sign of the true apostolic church. Besides the working of signs & wonders in our ministry, how we handle difficult times in our lives, speaks as loudly as our works. I felt that this is a word that we all need to hear for this season and to prepare God's people for the coming season.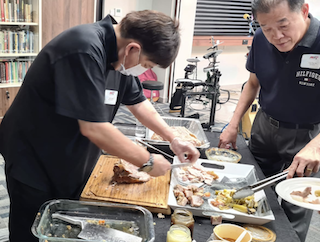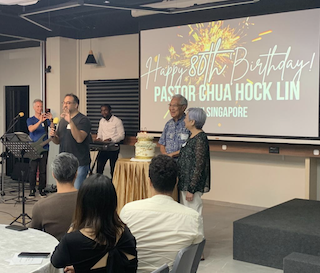 There was a good time of fellowship, and the evening ended with powerful prophetic prayers and proclamations, led by four pastors across the generations. And of course, the celebration highlight was for the birthday boy, Rev Chua Hock Lin, who has been a dear elder brother who always cared and pastored MFIS pastors these few years. He just turned 80! The following landmark announcement was also made by him: "Before I share the message the Lord has put on my heart, I have a short announcement to make. Earlier this year, I felt my time as the first Chairman of MFIS would be over by end 2023. Time for us to transition to a younger person. I shared this with the leadership and they concurred. We also agreed that Ps Sam Gift Stephen, Senior Overseer of Life Centre, would be the next Chairman of MFI Singapore. Ps Sam is on a family vacation and will assume this role on his return. I want to thank Ps Han, our Lead Apostolic Elder, the Apostolic Elder Council, Apostolic Leadership Team and all the members of our Fellowship Teams for their encouragement and support during the last three years. I believe the next season, with Ps Sam at the helm, will move us to a higher level for the mission of MFI Singapore".
To God be the glory, for Pastor Gabriel Han and the Harvester Community Church team who worked to put this together for us. We praise the Lord since every good and perfect gift comes from above. We look forward to 2024, the year ahead of us, a year closer to the return of Christ.
-A report by Pastor Lawrence Lee (former Senior Pastor of Glad Tidings Church)