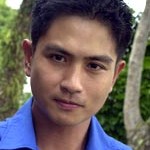 All Time Favourite Artiste Award
"Chew started his career in MediaCorp Studios after winning Star Search in 1990, a bi-annual nationwide talent search. Since then, he has never failed to make it to the Top 10 Most Popular Male Artistes in Star Awards, an award ceremony for TV personalities, since its inception in 1994. In 2004, Chew was awarded the All Time Favourite Artiste Award as he had garnered a record of 10 popularity awards.
Chew is able to immerse himself so well into his characters that viewers often have a lasting impression of his roles. This was evident when he bagged the Best Actor Award in Star Awards 2000 in Hainan Kopi Tales. His popularity has also spread across the causeway as he was voted the Most Popular MediaCorp Male Artiste in Malaysia.
Converted to Christ
Chew is married to Deon Tan and they have two daughters, born in 2002 and 2004. He revealed during a celebrity talk show in early 2008 that he did not have a happy childhood, often being abused by his overly strict father (a compulsive gambler), who committed suicide when Chew was still in primary school. He began attending a Charismatic church, Renewal Centre from 2007 and was baptized in late November 2008 with his daughters.
Limping while filming
On December 19, 2008, Chew announced during a church event that he was suffering from Kennedy's disease, a muscular dystrophy illness that resulted in him limping while filming for his latest role as Wang Zhongkun in Love Blossoms II. Chew said that he was diagnosed with the illness in September 2008, and that he alerted the local press as to his condition, but asked the press to not report it yet, as he was psychologically not ready for it. Chew originally planned on officially announcing his illness during the Star Awards 2008 ceremony, due to be held in March 2009. However, signs of his illness can be clearly seen already, and the news was hard to keep under wraps. The illness has also brought on cardiac problems and diabetes for Chew." (Source: Wikipedia)
Here is his testimony in audio.

Chew Chor Meng from teachhisword on Vimeo.