It was a joy to preach at Shekinah Assembly of God on Mother's Day. Blessed to return to in person worship and fellowship. I was told that they have moved their services to the Holiday Inn Singapore Atrium, along Outram Road. We seldom speak of Covid-19 positively, but thanks to it, they had a good, blessed rental arrangement and terms with the hotel management. The location and facilities suited their needs perfectly, to the praise of God's provision. It reminded me of those days when the church I served had to sojourn from hotel to hotel, till the Lord gave us a resting place in Geylang.
I rejoice with all Christians and churches everywhere in Singapore. What a joy to be back to in person worship services! Yes, we had to wear masks but we were allowed to sing aloud! Certainly, we can worship without singing aloud, but it was good to be able to vocalise our praises again. I was blessed by the worship. I preached about "Real Faith" using the story of blind Bartimaeus to illustrate the four aspects of real faith. We could even have time at the altar for prayer and ministry. I pray all churches everywhere will allow for 5 to 15 minutes at the end of the service, in front of the stage, for people to pray and to be prayed for. We should trust God to visit his people with a fresh touch of the Holy Spirit. It is time for people to return to intimacy with God and authentic fellowship with their church friends. Spiritual social distancing has to end!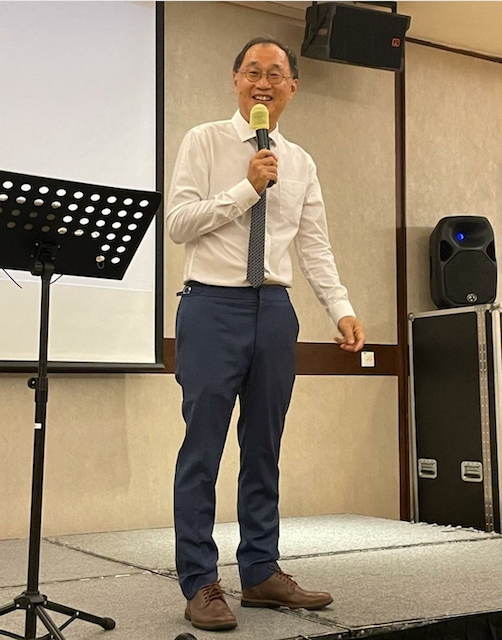 My wife was also given the Mother's Day gift package of two bottles of Scoop tea leaves. This is a generous church and Pastor Hock Cheng and his wife Camelia hosted us to a Japanese lunch at Great World City.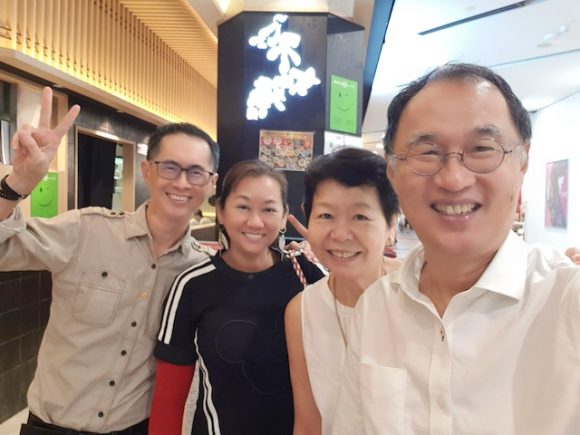 The quandary of the Mother's Day sermon
The Mother's Day sermon usually lands the pastor in a quandary. The sermon has to recognize the importance and contribution of mothers, without forgetting the fathers (they will have their day weeks later). The quandary is that single men and women are also present in the church service, both young and mature, and they are important to the church too, but there is no Single's Day. Maybe churches should initiate a Singles Day to celebrate these people's freedom from anxieties; and extol their ability to give undivided attention to pleasing the Lord (1 Cor 7:32-35).
Ways to preach Mother's Day sermons
I have preached quite a few Mother's Day sermons. Some of these sermons focus on the important role, influence and virtues of a godly mother. This is usually the time people like Eve, Sarah, Rebekah, Rachel and Leah, Jochebed (remember her?), Hannah, Naomi, Mary, and some lesser known unnamed female characters in the Old Testament and the gospels get the spotlight on Sunday. Other sermons deal with the more didactic passages like the famous (or infamous) Proverbs 31, that makes most mothers feel they are failed mothers or have fallen short of the glory of God. Other sermons compete with Reader's Digest to give practical tips for mothers to upgrade their parenting skills.
These are certainly a few ways to go about developing the Mother's Day sermon. However, the pastor needs to be conscious of the brokenness, discouragement and stresses that modern mothers face today. They need encouragement, affirmation and refreshment. We need to point them to the privileges, blessedness and resources of mothering. We need to point them to the grace, wisdom and power of God available to them as they love and form their children into godly adults. No mother should have to leave the sanctuary crestfallen, feeling condemned and a failure as a mother. They should leave feeling assured of God's forgiveness, inspired with fresh hope for the calling, and certain that God will faithfully watch over and work on their children, despite all their parental shortcomings and regrets.
Directed at mothers mainly
The pastor does not want half or more of the congregation feeling the sermon is largely irrelevant to them, so for such sermons he needs to use general truths and principles that are just as applicable to singles and fathers as well. For example, the pastor can talk about how Mary the mother of Jesus pondered over significant events that accompanied Jesus' birth, and while mothers will find it specially relevant, it can be used to exhort the whole congregation to be more attentive and reflective about what God may be doing and saying to them through the significant events that dot their lives.
Directed at all God's people mainly
The other way, which I prefer, is to preach a sermon that applies to everyone but with a few sermon applications and references towards mothers. This helps gain the attention of all God's people gathered for worship, and defuses or reduces feelings of irrelevancy or being slighted. Such a sermon could dwell on the attributes of God, or kingdom virtues like faith, hope and love revealed through a biblical event, teaching or character. I chose to do this in Shekinah Assembly. I preached about Real Faith and made a few applications to mothers.
The middle path is of course to use a variation of both approaches during alternate years. Whatever is written here applies to Father's Day as well. I forgot to mention that it would be wonderful to make some truths relevant for non-Christians in the audience too, as they sometimes visit the church during such special days, but preaching with an evangelistic slant is another topic for another day.
If you are interested in visiting the SHEKINAH ASSEMBLY OF GOD, their website is HERE, and I wrote about them in an earlier blogpost HERE.