Dr Richard Teo's illness, suffering and death raised quite a few issues. So I just had to request this interview with Job. I had to sit in the waiting area of his spacious mansion. He had lots of people lined up for appointments wanting to fellowship with him. That is how well known he is to eternity's residents. Many of them identified with his sufferings and felt an unusual bond with him. Finally I was ushered into the sitting room. He was alone. It was my chance to interview Job of the Old Testament.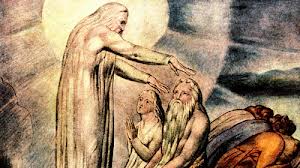 Do you feel able to talk about your past painful experience? You know I don't want to rehash painful memories unnecessarily.
JOB:  Healing takes place when you enter eternity. You still remember bits and pieces but they seem to be bathed in the light of God's love and you see things very differently. It's like you have new eyes to see all those old memories with,  and everything is reinterpreted with an aura of glory. Sure, I can talk about it without anguish, the way a mother recalls the laborious birth of her precious child.
I was a very wealthy man. My wealth and assets just kept increasing. God was prospering me left, right, centre, literally everything I touched. My children were living it up and never had to lift a finger to work. My wife had a life of ease. We were proud of our possessions and we had good stewards and servants who slaved for us. Many claimed us as their close friends and I was generous in helping the poor and distressed. Frankly, even powerful chieftains envied me and coveted my herds and popularity.
(He looked down, sighed, and shook his head slowly.)
So you were greatly blessed and felt grateful to God.
JOB:  Yes I attributed the great increase of my wealth and the many sons I have to God's blessing on me and I faithfully thanked Him with sacrifices of animals. Lots of sacrificial offerings. Some of the things my children did disturbed me, and their behaviour may have offended God. So I prayed much for them too.
That's why it hit me hard and perplexed me greatly when all the calamities struck. I am sure you have done your research and you know I lost everything in wave after wave of natural disasters and attacks. All my servants, my herds and flocks, my properties and my sons and daughters were all swept away in one massive desert storm. I didn't know what struck me. I had no time to react. All was lost within a day. Only my wife and my life were spared. I could not sleep. I didn't want to see anyone. I did not eat. I was weeping day and night. My trust in God was shaken like a tent against a storm. Emotionally, intellectually and spiritually, I shook. The worse was when I lost my health and contracted an unexplainable medical condition and even my wife of many decades left me. Somehow I clung on to God Almighty. The way I see it now, it must have been His grace at work.
It must have been inexpressibly difficult for you. Thanks for sharing your heart. Millions have read of your plight in the Bible and have found great comfort and hope in your story. It was a severe trial by fire. Did you try to make sense of what was happening?
JOB: Naturally I did. I kept asking myself, Why did this happen? What did I do wrong to deserve this? Did my children's behaviour offend God and trigger this judgment? If God is almighty why doesn't He stop the storm and the hale and the marauders? If He loved me, didn't He want to protect me?
I had some friends who came to comfort me but they were all of the opinion that it was because I had failed or sinned in some way unknown to me to cause such scorching judgment to fall on me and my family. It was deeply hurting to hear and their arguments stung like a viper's bite: God was righteous and He could do no wrong. It had to be my fault: I had somehow failed to walk in righteousness. But I have kept the faith. I have fulfilled all righteousness – ceremonial as well as moral – as best I could as an upright man. Surely God could see that! Yes I strained to justify my faith and righteousness. My friends had probably looked at all my self-justification and thought, What a proud and self-righteous fellow!
So you were not able to reach a kind of conclusion or closure to your unexplainable sufferings?
JOB:  Well, you could say I didn't and you could say I did. You see I had this encounter with God. He blew me away with a list of questions that sort of meant, I am your Creator and the almighty, sovereign and wise God: all you need to do is to trust Me even when you do not fully understand what's happening to you or around you.
And that was it? Did that untie the knots for you?
JOB:  Frankly it did not answer my intellectual questions. It just gave me peace in the midst of mystery. I remembered how after that revelation, I simply sat in bowed silence and awe for days before the Lord Almighty.  I lived the rest of my life in reverence of the mystery of life and in gratitude of God's sovereign grace.
Did your perspective of what had happened change with time and in what way has it matured?
JOB:  Of course it has. But it was not a maturing. It's just that I now live on another plane of existence, on the other side of eternity. I now see the cross. I fully apprehend the depth and height and breadth and length of the love of God in His great sufferings on our behalf. I cannot see the suffering Son and say He did not care or love us. No way. I experience His love and wisdom in a heavenly dimension continually. I see all my past painful sufferings through the eyes of one who had been bathed in this pool of His incredible love and joy. There is no room in my heart for accusation or doubt or resentment of Him. Questions that bugged me when I was a child and thought like a child, rapidly dissipated like vapour in heaven's air.
Did you say or do anything that you later regarded as childish or immature thinking on your part?
JOB:  Yes of course. My understanding of God was quite mechanistic, I suppose: If I am righteous, He will bless me, and nothing bad will happen. I had everything figured out in philosophical formulae. There was no allowance for mystery and the unexplainable in my life.
Some people in my generation think that you suffered because you feared specifically that all those terrible things would happen, and that's why it came upon you: you sort of opened the door to evil in your life by your fears.
JOB:  I was afraid and I had my anxieties and exaggerated ideas of the worse that can happen to my family and business.  If such weaknesses opened the door to evil then I suppose there are millions of believers who would have such severe trials in their lives continually.   Since being on this side of eternity I have seen that God is greater than our darkest fears and He faithfully extends His hands of grace to his fearful and anxious ones as well .
May I ask what were your highest and lowest points in life?
JOB: The lowest point was when my wife gave up and left me. That came when I was already depressed.
My highest point? There were quite a few. The revelation I received from God of His attributes. Seeing how God restored my wealth double and gave me a new family.  However the highest point surely was being ushered into eternity and meeting Him face to face. Nothing could beat that!
What kept you going despite all the losses and pain?
JOB: I had this basic trust in God, and I did not want to die.
Having gone through such a severe trial, what advice would you give to those going through similar ordeals?
JOB:  Not so much of advice because advice does not really help people undergoing such profound suffering. They would need loving listening friends to be with them. I pray that people going through such severe trial will not lose hope in God. When they finally do feel that they have lost their hold of faith and hope, may they surrender and rest in His ability to uphold them.
My wish for them is that they would pray, Father I do not understand why this is happening, but I trust Your love and wisdom and power. You will work out all things for our good and for Your greater glory.
Would you want to go through such suffering again?
JOB:  Are you kidding?
Job, thanks for sharing these heavenly gems with us who continue to live in a fallen world full of pain and sufferings. We do not see as clearly as you do because we cling ever so tightly to our possessions and life as we know it.
JOB: You are welcome. Shalom my friend, see you an instant. I hope you know what I mean. Over here there is no sense of time.