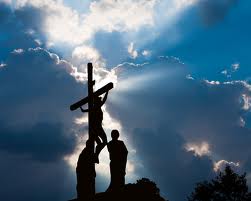 Nobody puts out the welcome mat for suffering. Most times it hits us and takes us by surprise. Sometimes we can anticipate the storm. Whichever way it happens, when you are in the midst of it you feel the pressure, pain, loss, hopelessness and fear.
Jesus said, "These things I have spoken to you, that in Me you may have peace. In the world you will have tribulation; but be of good cheer, I have overcome the world."(John 16:33 NKJV)
There will always be tribulation or trouble, even for Christians. Jesus said it is because we live in this sinful and broken world that Christians too will suffer. We will not be exempted. The difference for Christians is that we have a pioneer who went ahead of us in the path of suffering. Jesus suffered for what He did not deserve. He was unjustly mistreated, tried and sentenced to death. His reputation was dragged in the mud and He lost his life in a torturous and humiliating way.  Yet He overcame in His suffering. Thus He understands those who go through suffering and is able to sympathize and support and supply them with the grace, faith, victory and wisdom needed. We have a companion in our suffering. It is a fellowship and sharing in suffering and victory that we should be aware of when tears and sorrow are our daily bread.
When you are undergoing great trials, see yourself in fellowship with Christ in your sufferings. He has overcome and so will you, when He is with you in it. It will be a great comfort and strength to your weary soul. Be of good cheer.